I finally decided to do an overview post of my collection of choker and collars!
And what better day to do it then today?! Super happy to get back to blogging, so hello everyone!
So the first three choker / day collars (whatever you want to call them!) are some of my favorites! I like pairing them with my every day outfits! I really like the D rings on the chokers because I can attach different charms on them
I like this feature because it allows me to uniquely customize them!
Here are the next five! The first two are again from PurrCollection and the last three are from two different shops!
The third and fourth choker are both from an Etsy shop called TheLittlePinkKitten! The last one was made by my friend, Rei, from Little Lycan!
As you can see, I really like the chokers/day collars from PurrCollection! (Link to her Instagram because it seems Etsy shop is down!) The owner of PurrCollection takes a lot of care into making her chokers/ day collars! They're all super comfortable!
The ones from TheLittlePinkKitten was actually one of the very first chokers I started collecting
They're very affordable and the owner packs each item in a pretty bag and with a discount code for your next order!
And of course theres the one from Little Lycan! I wear this one the most (after my pastel pink and blue choker from PurrCollection)
Here are two different chokers / collars from two different shops! The first one (orange and black) is from SweetSheepSecrets (gift from Rei, thank you!) and the second one is from... dun dun dun... PurrCollection! This one was my very first customized collar LOL
They're both very comfortable as they have webbing on them!!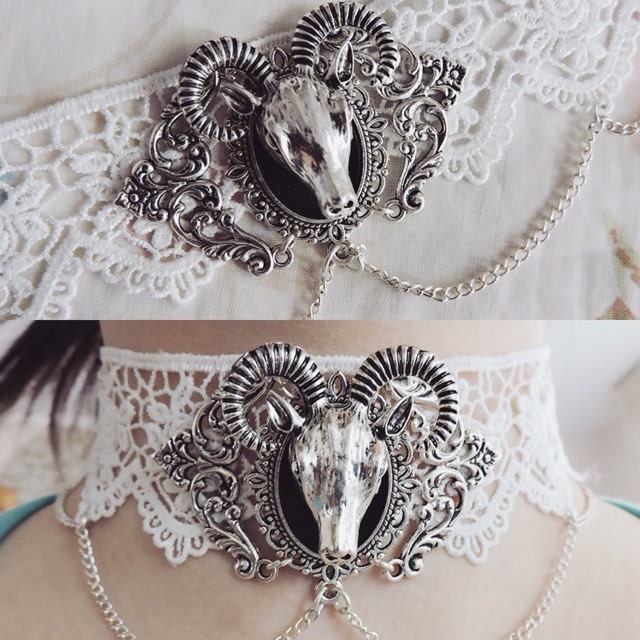 Finally, I think I've shown you all this choker before but, here is my custom order from LolitaPopShop!
It is a ram skull choker
I believe the shop can remake this for anyone who wants one! You just have to message them!
____________________________
In conclusion, I would recommend all of the shops that I mentioned in this post!
Happy New Year everyone